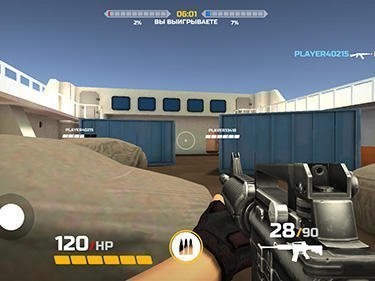 Hot news
Obtained: 96%
Game Gunkeepers: Online shooter
Break into a duel where you have to work together. Capture powerful modern weapons and fight other powerful enemies on different game maps. This is dynamic Android gamewhere you will fight with other enemies in the world.
Multiplayer
The game has multiplayer mode so you can play with anyone you want on the internet. It is therefore necessary to be connected to the Internet. Find other game friends and work together if you want.
Each group has its strengths and weaknesses, unique abilities and weapons. You must try to hide as quickly as possible, watch your back and shoot down enemies at the right moment. Shoot as accurately as possible with your automatic weapon and try to repel all dangerous attacks.
The game offers 4 groups of heroes (each with different features) and you have a large arsenal of weapons.
Video from the game
Download the game / application right here
Game review

Graphics -

94%

Gameplay -

96%

Entertainment -

98%

Optimalization -

97%
EVALUATION OF ANDROID APPLICATION / GAMES
Who evaluates
When evaluated
Application / game to evaluate
Rating obtained