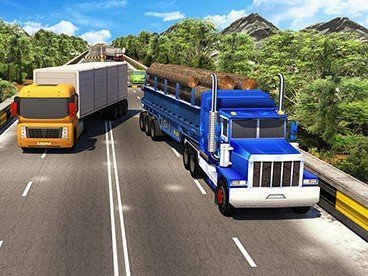 Hot news
Obtained: 97%
Offroad 18 Wheeler Truck Driving Game
Sit beside the driver's wheel and enjoy a great adventure journey through very demanding highways and heavy terrain. You will feel like the right truck driver. There are several missions available.
Loss of cargo is a problem
You drive a huge truck, like trucks with wood, tanks and other huge cargoes, for example, on site. There is a need to ride through individual catch points. Be careful not to lose the load.
You get a lot of awards during the game. You have very powerful vehicles, exciting missions, different camera modes and realistic physics. There is also great graphics processing.
Control is simple
You will also experience simple, realistic physics. Prove your knowledge and try to control the vehicle as best you can.
Download the game / application right here
Game review

Graphics -

96%

Gameplay -

98%

Entertainment -

97%

Optimalization -

96%
EVALUATION OF ANDROID APPLICATION / GAMES
Who evaluates
When evaluated
Application / game to evaluate
Offroad 18 wheeler truck driving
Rating obtained