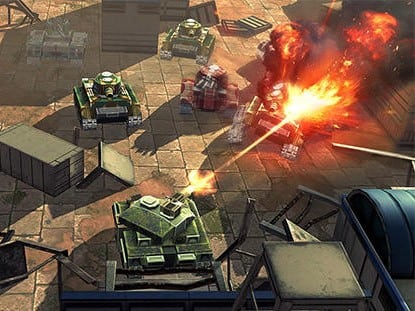 Hot news
Obtained: 97%
Play Tank battle heroes
Control a very strong tank through the battlefield. Shoot all with your weapon and be careful not to happen. Become a really skilled tanker. Test all abilities and use everything you have on hand.
You know how it is. You enter the battlefield and enemies gather around you. You have to try to eliminate the opponents, but without improving yourself, it will not work. Choose your tank and try to do everything to win individual battles.
The game is strategic Action games.
Lots of places to fight
In this game you will be in different places. You will find yourself in the desert or in the woods. But there are other places where the game will take place.
Enemies are tenacious after winning
Try to avoid enemy missiles because you are not unlimited in health and therefore you have to be very careful. At the same time, think about it as accurately as possible so you do not waste your cartridges unnecessarily. Then get into it and start improving your tanks.
There are improvements, new tanks
There are several tanks and interesting battlefields where the battles will take place. As we have written above, tanks are improving in this game and really great gameplay.
Download the game / application right here
Game review

Graphics -

98%

Entertainment -

96%

Gameplay -

95%

Optimalization -

97%
EVALUATION OF ANDROID APPLICATION / GAMES
Who evaluates
When evaluated
Application / game to evaluate
Tank Battle Heroes: World of Shooting
Rating obtained